Domus Apartments
Minimum stay restrictions may apply
Chat Via

Make yourself at home in central Luxembourg with a stay at these fully furnished corporate apartments.

This Portland Brown Partner property offers studio apartments all fully equipped with a kitchenette, communal laundry facilities and weekly cleaning as standard.
The property is located on a quiet avenue, just a few minutes' walk from the city centre and benefits from a concierge, fitness room and a communal terrace.
Our 24/7 Guest Services Team will make sure you're looked after throughout your stay, arranging your arrival, any special requests and will be there to liaise with your apartment provider on your behalf.
Property Features
Communal Laundry Facilities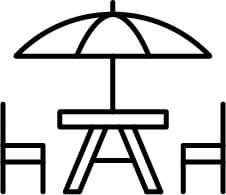 Communal Roof Terrace
Standard Amenities
Working, relaxing, and living. Our spaces have all the essentials you need for your stay.
Check distance from a location
Walking and cycling routes may be missing pavements, cycling or pedestrian paths. Please use routes provided with caution.