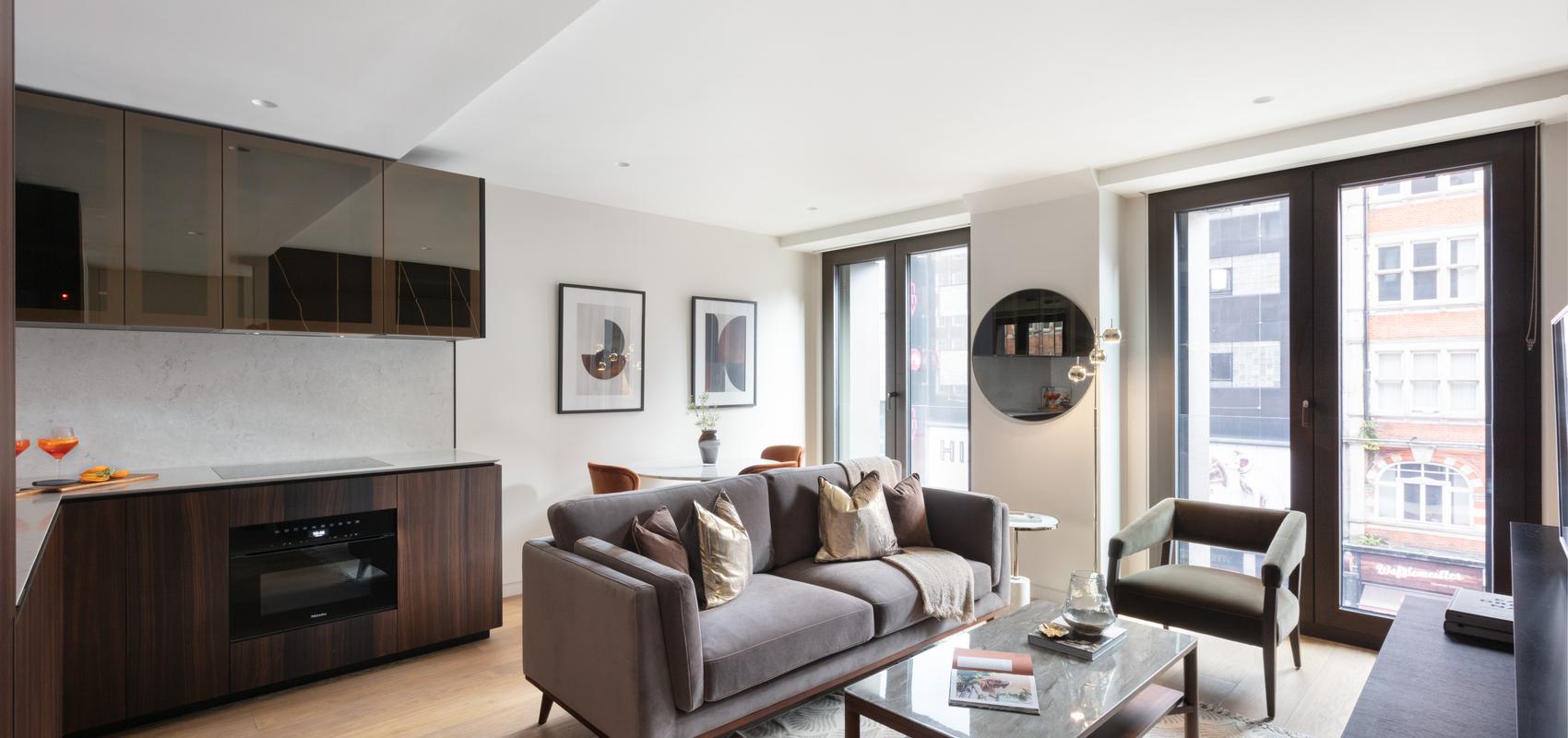 General FAQs
Can you store my luggage?
Unfortunately we cannot store your luggage, however, we do recommend Luggage Hero who have locations world-wide where you can conveniently store your bags. 
Will my building have 24-hour reception?
Some of our properties have a 24-hour reception, however our Guest Relations Team is always on hand 24/7 to help you. 
Are there lifts in your properties?
Please check the specific apartment page on our website for full property amenities.
Are your apartments pet-friendly?
Some of our apartments are pet-friendly. Please let us know at the enquiry stage if you are planning to stay with a pet and we can send you pet-friendly apartment options. 

Please note, pet deposit & pet cleaning fees may apply. 
Can I have a cafetiere/coffee machine?
The majority of our apartments come with a cafetiere. Please let us know in your pre-arrival call if you would like to put in a special request for a cafetiere or coffee machine and we will do our very best to accommodate you. 
Can someone assist me with my luggage?
For some of our London properties we can arrange a meet and greet service where a member of the Portland Brown Team can help with your luggage. Elsewhere, we can see if this can be arranged but this cannot be guaranteed. Please let us know if you need a meet greet during your pre-arrival call and we will see if we can get this arranged. 
Can I see a video tour of my exact apartment?
We can sometimes share video links to your exact apartment, please contact your Account Manager or Booking Agent for details.

For corporate bookings you may not be allocated your exact apartment until closer to arrival, so we will not be able to provide a video link at the booking stage.
What taxes will I need to pay?
🇬🇧 When you book in the UK, all of our prices will be exclusive of VAT. In the UK VAT is 20% for the first 28 nights and then reduces to 4% for the rest of the stay.  
🌎For anywhere outside the UK, bookings are covered by TOMS, which means they will be inclusive of tax. City or Tourism Tax may apply in some locations and we will advise of this in your booking quote.
How do I pay?
Corporates
You will be sent an invoice via our centralised invoicing system and we can accept payment in British Pounds, Euros, US Dollars and Swiss Francs. If you would like to discuss credit terms with us please contact your Account Manager.
Individuals
We accept payment in British Pounds. You will be sent a payment link or you can pay via bank transfer.
If you have any questions about making payments please contact your Account Manager or Booking Agent.
Do I have to pay a deposit?
We don't normally ask for a deposit, but we will need payment 14 days before you arrive unless you have an existing credit arrangement with us. Damage to our apartments may also result in additional charges.
Individual bookings
We take a £1000 deposit which is refunded in full after you leave assuming there is no damage to the apartment. For our cancellation policy please read our terms and conditions provided by your booking agent.

I've lost my keys, what do I do?
If you've lost your keys, please contact us immediately so we can help. Unfortunately, to protect the safety of our guests, if you can't find your keys, we may need to change the locks, which is chargeable.
How do I contact you during my stay?
You can contact our guest relations team 24/7 who are always happy to help!
How do I check out?
We have an easy self-checkout process. We'll get in touch with you via email 7-10 days before you depart to confirm all details such as where to leave your keys.
Can I extend my stay?
We try to be as accommodating as possible with booking extensions but the more notice you give us, the more we'll be able to help.
Where possible, we'll try to keep you in the same apartment. Otherwise, we'll do our best to find you a similar apartment which is nearby. We'll also move your belongings for you.
Check-in - How do I access my apartment & will I be met on arrival?
We offer a full meet-and-greet service, where one of our team will welcome you at the apartment. They'll give you your keys, show you how everything works and give you any information you might need about the local area. If you'd rather check in yourself, this is possible in some of our locations. We can discuss if you would like a meet and greet, or self check-in during your arrival call with our team. 
Can you help with an airport transfer?
Yes, we can arrange an airport transfer on arrival. Contact your Account Manager or Booking Agent to find out more (T&Cs apply).
Can I have guests in my apartment?
We understand that you might want friends or family over during your stay. Please let us know in advance and we'll do all we can to accommodate you.
Can I stay in your apartments with my family?
Yes, our apartments come in a variety of shapes and sizes and are perfect for both individuals and families. If you need cots or highchairs, we can also provide these on request.
Do you provide parking?
Some of our apartments offer parking facilities. Our Account Management Team will be able to provide information about this at the booking stage.
Where we are not able to offer parking, we may be able to provide information about parking in the local area. Get in touch for any enquiries.
How do you make sure your apartments are secure?
Looking after you and keeping you safe is our number one priority. 
✔ We only take on properties in safe and secure areas.
✔ Portland Brown and our suppliers have strict key safety policies & procedures in place.

✔ To make sure you arrive safely, we can welcome you to your apartment at any time of the day or night. 
✔ We can provide a safe in your apartment if you need one.

Do you provide towels & bedding?
All our apartments include towels and bedding and will be changed during your housekeeping visit.
How often is housekeeping?
Housekeeping frequency varies in different cities. The majority of our apartments are cleaned weekly or bi-weekly. We'll let you know how often your apartment will be cleaned in your pre-arrival call. If you have any special requests please let us know before your arrival and we can see if we can arrange this for you. 
What's included in your apartments?
Our apartments are fully furnished and equipped with everything you need to feel at home. 
Apartment amenities can vary slightly in different countries however our standard amenities include:
WIFI
Housekeeping
Heating
Washer/Dryer or laundry facilities
TV
Dishwasher
Fully Equipped Kitchen & Utensils
Fresh Bedding & Towels
Hairdryer
Iron & Ironing Board
Clothes Dryer
Other Services
24/7 Guest Relations
All Bills Included
Meet & Greet or Self Check-in
WFH Space
Please let us know if you require anything specific in your pre-arrival call so we can get this arranged for you before check-in, or, if you're already staying with us please contact our Guest Relations Team who will be able to help.
How do I contact your Guest Relations Team?
Our team is available 24/7 to help, via the phone or email:
How long will it take you to respond to my enquiry?
We aim to respond to all enquiries within 1 hour during office hours. All weekend enquiries will be responded to Monday morning.
Office Hours: Monday - Friday - 08:30 - 17:30
Guest Relations: 24/7
Why stay with Portland Brown?
When you stay with us, you get much more than just an apartment. You get a friendly, supportive team who are available 24/7 to make sure your stay is going smoothly. Our approach to service and willingness to go above and beyond is what sets us apart from other providers.

What are the benefits of staying in a serviced apartment?
Our apartments have lots of advantages over alternatives like hotel rooms. They're bigger, they offer better value for longer stays and they feel more like home. You can cook your own food, do your own laundry and live like you would at home, helping you to settle in and feel comfortable in a new city. Most of our apartments are also in residential areas, giving them a natural, everyday feel.